Those of you who have been following my blog recently are aware that I have been talking about the Baptism in the Holy Spirit.  I've got a whole lot more to say on the subject, but before I go on I'd like to ratchet back for a moment and talk about the primary essentials of the Christian Gospel.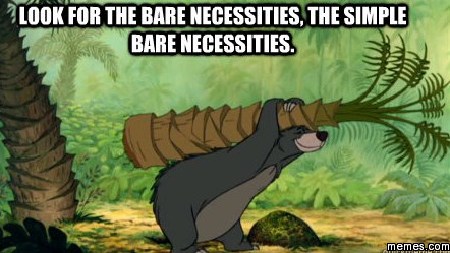 (There's my quirky humor for the post)
Usually if I spend much time talking about anything with more heavily spiritual implications, people of the Western mindset and worldview have the feeling that I am going off on some non-essential tangent from the plain, simple Gospel of Christ.
I've found myself frequently looking down the barrel of this argument, which says: 'We want to make it easy for people to come to Christ, so we don't want to scare them with too much overt spirituality.'  Usually its not stated quite so plainly, but that is the heart of what is meant.
This always leads me to wondering this question: 'Okay… but when do we introduce people to the LIVING Christ?'  See we can explain a creed, or liturgy pretty easily to people, but once they've heard it are they convinced?  If they are, don't they want to enter into the real thing?  If they're not, then surely we need to demonstrate it as well as declare it.  Furthermore, if what people accept in our evangelism is merely our perspective, and they are not introduced to the real, living Jesus of the bible… are they really saved?
I'm going to make the case that the best way to win souls to Christ is demonstratively – Jesus declared that we are the 'light of the world,' and that a city set on a hill cannot be hidden.  No one lights a lamp and sets it under a basket!  (This is from Matt 5:14-16)
Just what did Jesus mean by that?  Did He mean that we are to use our natural talents, and abilities in order to make ourselves known? (<- This is how I [almost always] hear it taught.)  NO!  He's not speaking of natural talents and abilities at all – He's speaking of the anointing of God.  This is clarified in parable form in the previous verse:
Matt 5:13
Ye are the salt of the earth: but if the salt have lost his savour, wherewith shall it be salted? it is thenceforth good for nothing, but to be cast out, and to be trodden under foot of men.
If He were speaking of natural abilities, it is not as though you will lose them!  But if He is speaking of godliness (the anointing) – you CAN lose your zeal, your zest for God, your sense of His presence.  Then what are you good for?
Being the light of the world means that we are supposed to be the most spiritual, godly people on the planet.  Do you know God?  That will be evident by the light of His presence upon you.  What if that presence of God makes people uncomfortable?  Should we quench it?  GOD FORBID!! (1 Thess. 5:19) For if the salt loses his flavor… how shall it be salted again?
If you reject the anointing of God upon you for the fear of man (which is what this seeker-friendly thought comes down to), how can God entrust you with His presence again?  God forbid that we would crucify the Son of God afresh, and put Him to an open shame (Heb 6:6)!
The goal in our lives is godliness, is spirituality (1 Cor 2:14-16).  Will it make people uncomfortable if we become highly spiritual?  You bet it will!  But don't worry… it will make YOU uncomfortable first, so you'll be able to sympathize 🙂
Remember this: the Holy Spirit is called the Comforter, but He is not primarily interested in our comfort.  No, indeed, in fact our comfort is an enemy of the Spirit of God.  The desire for comfort is a desire of the flesh (and of the soul that wants to be in control), and 'the flesh lusteth AGAINST the Spirit, and the Spirit AGAINST the flesh…' (Gal. 5:17).
The Holy Spirit is not primarily interested in our comfort, He is primarily interested in EXALTING JESUS CHRIST. (John 15:26)
RIGHT BIBLICAL SPIRITUALITY equates to RIGHT BIBLICAL MATURITY.  So, then, what is that right biblical spirituality?  What are the essentials of the Gospel, which make one appropriately spiritual?
The writer of Hebrews lays out plainly the first six principal doctrines of Christianity – the 'Primary Essentials of the Gospel,' if you will.  In context he is rebuking the church for not having these thoroughly in place already, but you will find as you look at them that these basic biblical teachings are some of the very teachings that the church in our day equates to non-essentials!
Heb 6:1-2
1 Therefore leaving the principles of the doctrine of Christ, let us go on unto perfection; not laying again the foundation of repentance from dead works, and of faith toward God,
2 Of the doctrine of baptisms, and of laying on of hands, and of resurrection of the dead, and of eternal judgment.
I won't really tackle all of these, but I have heard Christian 'ministers' declare that repentance is not necessary for salvation, only faith in Jesus.  This mindset is, firstly, a misunderstanding of WHAT repentance, and faith ARE, but secondarily is a denunciation of the first principal doctrine of Christianity!  From this flawed ideology that repentance is not necessary the church has birthed such abominations as acting homosexuals who believe they are saved because they have accepted that Jesus is Lord – is that not an horrible tragedy?  When they are cast into hell at the judgment because someone taught them that they need not repent of their sin, is it not then also the teacher's fault?  Did we teach them that so that they would join our church and be comfortable?  God will hold that teacher accountable, rest assured of it.  (This is not the only misconception that deleting the doctrine of repentance has led to, (or will) but it is a readily available example in our culture.)  Is it a 'non-essential' doctrine?
I'll not go on that tangent further, but let us appropriately heed each one of these topics, study them and be well grounded in each.  These are the primary essentials of Christian faith.
Notice that the first doctrine mentioned in verse 2 is 'baptismS' plural.  The doctrine of baptisms is plural because this passage speaks of 1) the water baptism, and 2) the baptism of the Holy Spirit.
When we speak on the Baptism in the Holy Spirit, it is one of the six principal doctrines of Christianity.
1 Cor 2:12-16
12 Now we have received, not the spirit of the world, but the spirit which is of God; that we might know the things that are freely given to us of God.
13 Which things also we speak, not in the words which man's wisdom teacheth, but which the Holy Ghost teacheth; comparing spiritual things with spiritual.
14 But the natural man receiveth not the things of the Spirit of God: for they are foolishness unto him: neither can he know them, because they are spiritually discerned.
15 But he that is spiritual judgeth all things, yet he himself is judged of no man.
16 For who hath known the mind of the Lord, that he may instruct him? But we have the mind of Christ.